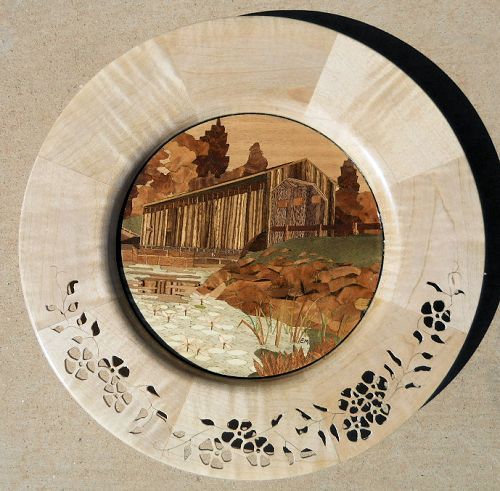 (alternatively Fallassburgh Bridge) is of the through-truss type. It is 14 feet (4.3 m) wide and 100 feet (30 m) long and the bridge has an inside clearance of 12 feet (3.7 m).
It was erected in 1871 in Vergennes Township, Michigan, on the Flat River and is listed on the National Register of Historic Places.
The bridge currently rests on concrete and fieldstone footings at each end put in place in 1905. As is typical for covered bridges, it is a frame structure with a gabled roof that is covered with creosote shingles.
The marquetry was taken from a photograph.
The 8 segment, maple plate has an original flower pattern cut around the edges using a scroll with a 3/0 jewelers blade. It was finished with 6 coats of sanding sealer and 4 coats of wipe on Satin Poly, and finally polished with Renaissance wax.
Some artistic license applied. 100% scalpel cut.