This piece was entered in the American Marquetry Society's (AMS) Covered Bridge contest 2012 and took 3rd place.
Description: This was taken from an internet photograph of the Laughlin Ranch Golf Course Covered Bridge just east of Bullhead city, Mohave County, Arizona.
The photo was by Bob & Dorothy Dunham. GPS coordinates N35 08.137 W114 32.677.
It was built in 2004 by York Bridge Concepts (www.ybc.com) with Stringer truss construction. Designed as a cart path crossing a dry wash gully and spans 50'. It is 16' wide.
This piece measures 13" (33 cm) x 10.375 (26.4 cm) and was pressed onto a piece of ¼" MDF board, and backed by a single piece of Maple veneer. It was sanded with 220 grid then 5 coats of sanding sealer were applied. Between each application the surface was wet and dry sanded with 600 grid using a flat steel block. It was finished with 3 coats of wipe on polyurethane varnish and finally polished with Renaissance wax.
It is all Scalpel cut.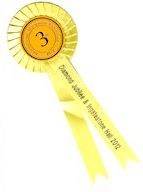 /