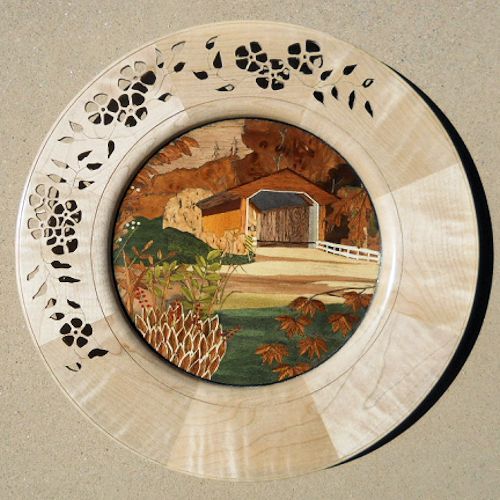 This piece is the first in a set of 3.
The 10-3/8" plate is based on an 8 segmented Maple construction. It is 1" thick and sports an original floral filigree cut on a scroll saw using a 3/0 (0.008") jewelers blade.
The 6" marquetry inlay shows my rendition of the Silk Road, Covered Bridge in Bennington county,
Vermont. Some artistic license.
The bridge is on the national register of historic places. This bridge spans the Wallomasac River
and was built in 1840 by Benjamin Sears. The
Original name was Locust Grove Bridge.
It is 88' long, 14.25' wide and 10' high at truss, 11.9' high at center.
I used Maple to turn the 8 segment plate and the flower pattern around the edges is original, and cut on a scroll saw using a 3/0 jewelers blade.
This plate was finished with 5 coats of sanding sealer and 2 coats of wipe on Poly, and finally polished with Renaissance wax.
It was 100% scalpel cut.