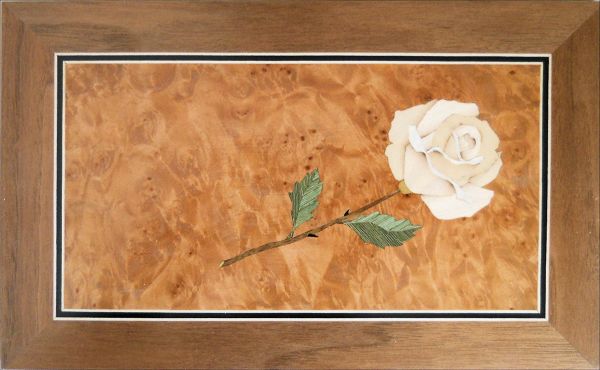 This box top was an exercise in doing a sand shaded rose.
A friend of mine is a very good Jewelry Box maker and so lets see what he comes up
with for a nice box using this. As it stands it measures 10-3/4" (27.3 cm) X 6-3/4"
(17.14 cm).
The sand shaded white rose, of holy and sycamore with dyed green leaves is set into
a Madrone Burl bordered with a triple border of holy-black dyed-holy veneer,
bordered by a walnut frame.
It has 5 coats of sanding sealer sanded to 1500 grit and 2 coats of polyurethane
gloss varnish with a final coat of poly satin wipe on. It was finished with a polish
using Renaissance Wax.